There is lingering uncertainty about the first impeachment of former President Donald Trump, whether or not he was justified in inquiring about former Vice President Joe Biden's threat towards a Ukrainian prosecutor, that appears to be gaining clarity.
Newly revealed memos obtained by Just the News directly challenge the commonly held view that Joe Biden was acting in line with U.S. policy when he threatened to withhold a $1 billion U.S. loan guarantee to force the ouster of Ukraine's Prosecutor General Viktor Shokin in December 2015.
At that time, Shokin's office was aggressively investigating Burisma Holdings, where Biden's son, Hunter, served as a board member. Further details about this investigation have been recently revealed. Burisma was pressing Hunter Biden to help neutralize Shokin, according to Devon Archer, a former Burisma board member and Hunter Biden's ex-business partner.
Three main takeaways arise from reviewing the documents that directly contradict the narrative that Biden sought to replace Shokin because he was 'corrupt,' such as:
Senior U.S. officials had earlier praised Shokin's office
Burisma was trying to influence U.S. officials to dismiss the corruption allegations
A top U.S. official in Kyiv criticized Hunter Biden for undermining U.S. anti-corruption efforts in Ukraine
During President Trump's first impeachment, testimonies acknowledged that Hunter Biden's role in Burisma could be perceived as a conflict of interest but didn't fundamentally affect U.S. policy. Yet, the confidential emails shared with Just the News suggest that Hunter Biden did influence U.S. policy on corruption in Ukraine.
Joe Biden's role in influencing Ukrainian President Petro Poroshenko to fire Shokin has heretofore been unclear. Shokin was investigating Burisma, where Hunter Biden and Archer were being paid $83,333 a month.
Biden had publicly recounted his ultimatum to Ukraine: "I said, 'You're not getting the billion.' […] 'I'm leaving in six hours. If the prosecutor is not fired, you're not getting the money,'" which was followed by Shokin's eventual dismissal. This led then-President Trump to seek information from the Ukrainian president about what happened, which somehow led to his impeachment and acquittal.
During the impeachment, the defense was not provided with documents that could have significantly affected the case, according to legal experts and politicians familiar with the matter. Some memos were eventually given to the Senate Homeland Security Committee in late 2020 but came too late to influence their investigations.
As the report notes, Victoria Nuland, current Undersecretary of State, told investigators that concerns about Shokin dated back to the summer of 2015. These concerned his failure to prosecute former members of the deposed Ukrainian president Viktor Yanukovych's government.
Contrary to previous narratives, Archer claimed that Shokin was indeed a threat to Burisma. Documents obtained also contradict this prevailing narrative, indicating that U.S. officials were sending mixed messages about Shokin's performance.
For example, a June 2015 letter from Victoria Nuland on behalf of Secretary of State John Kerry commended Shokin's office on its corruption reforms. An IPC memo from September 2015 further endorsed Ukraine's anti-corruption efforts and recommended the third loan guarantee.
In the following weeks, officials from the State and Justice Departments carried on with the strategy they had outlined in their October memorandum. They even extended an invitation to the top-tier officials from Shokin's office to visit Washington in January 2016 for further talks.
Upon their arrival in the U.S. capital, State Department memos reveal that news broke suggesting Biden had altered the U.S. stance as of December 2015.
The U.S. embassy in Kyiv learned of this development from Ukrainian media and informed the IPC task force, expressing once again how "super impressed" they were with Shokin's team.

"According to Dzerkalo Tyzhnya news website, 'the U.S. State Department has made it clear to the Ukrainian authorities that it links the provision of a one billion dollar loan guarantee to Ukraine to the dismissal of Prosecutor General Viktor Shokin,'" noted the embassy in Kyiv in communication with the IPC task force.
"Buckle in," Pyatt cryptically responded to the news on January 21, 2016.
Eric Ciarmella, a CIA agent stationed at the Obama White House specializing in Ukrainian matters and later known as the whistleblower in Trump's impeachment, seemed caught off guard by the news.
"Yikes. I don't recall this coming up in our meeting with them on Tuesday, although we did discuss the fact that the PGO IG condition has not yet been met," Ciarmella informed the task force. "I've been meaning to write to you about our meeting – we were super impressed with the group, and we had a two-hour discussion of their priorities and the obstacles they face."

A few days prior, the Obama administration had updated the prerequisites for the loan guarantee, indicating that they were still willing to proceed with it despite some unfulfilled obligations within Shokin's office.
"Here's nearly the latest CP document. We've made some very minor tweaks since this version, which I will dig up and send to you tomorrow but wanted to get something to you tonight," Segal-Knowles told State Department's Rachel Goldbrenner on January 15.
Interestingly, the attached file mirrored the November memorandum outlining conditions for Biden's conversation with Poroshenko. Surprisingly, it contained no stipulation calling for Shokin's ouster.
No documents furnished from Sen. Johnson's thorough 2020 investigation have so far indicated any directive by the IPC task force to either hold back the billion-dollar loan guarantee or call for Shokin's removal.
The threat to fire the prosecutor thus appears to have been an "out-of-the-blue" initiative from Joe Biden before he flew to Ukraine.
A resurfaced photograph taken on Air Force 2 on December 6, 2015 shows the former vice president alongside an adviser closely connected to his troubled son Hunter and Ukrainian gas company Burisma.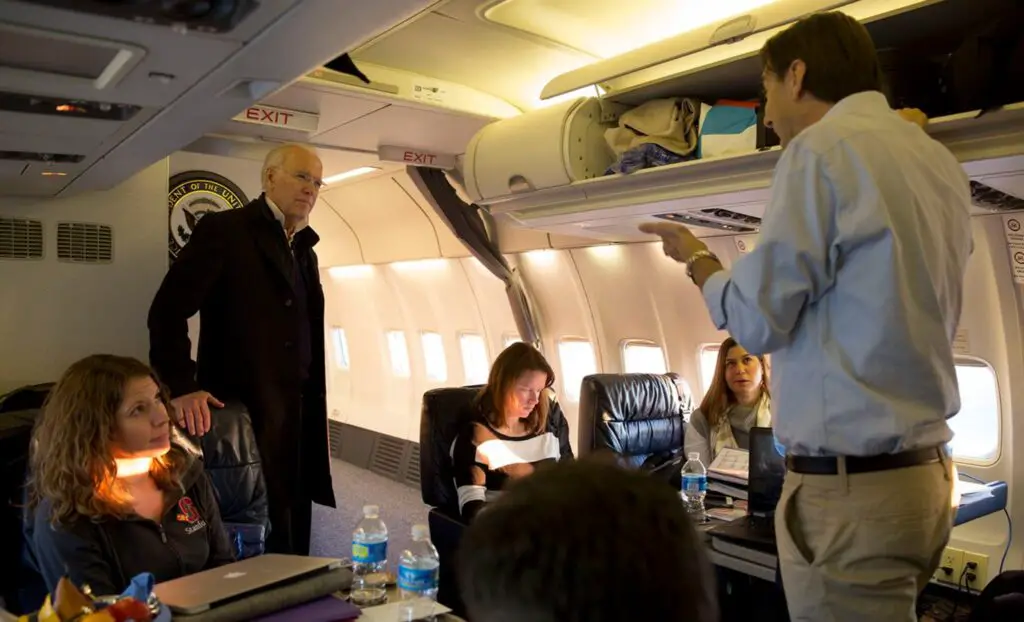 The photo was taken shortly before Joe Biden arrived in Ukraine at a meeting with the president and threatened to withhold $1 billion in U.S. aid if they did not fire their top prosecutor Viktor Shokin.
Amos Hochstein, now a special presidential coordinator for President Biden, is pictured in the photo below. He allegedly had interactions with Hunter and his contacts at Ukraine's Burisma Holdings when Biden's son was a board member.
The photo shows that Joe Biden was discussing issues with a Hunter Biden ally who was being kept abreast of Burisma's issues days before he issued an ultimatum to former Ukrainian President Petro Poroshenko to fire the top prosecutor or risk losing the billion dollars in U.S. aid.
Republican Congresswoman Elise Stefanik (R-NY) provided reaction to the photo to Fox News Digital.
"This damning picture of then Vice President Joe Biden on Air Force Two en route to Ukraine talking with Amos Hochstein is just further evidence that Biden and senior officials in the Biden Administration not only knew of Hunter Biden's corrupt foreign business dealings but also that Joe Biden was intimately involved while Vice President," Stefanik said.
"At the time of this photo, Hochstein was in communication with Hunter Biden and Burisma where Hunter served on the board," she continued. "We also know that this photo was taken on Air Force Two ahead of Joe Biden's now infamous meeting with Ukrainian President Petro Poroshenko, where Biden threatened to have aid withheld if a Ukrainian prosecutor investigating Burisma was not fired."
"All evidence points directly to Joe Biden being deeply compromised. House Republicans will leave no stone unturned in our investigations into Biden's involvement in his family's influence-peddling scheme," Stefanik added.
A Senate Republican report from December 2020 on Hunter's business activities indicates that in October 2015, Hochstein expressed concerns that Hunter's role on the Burisma board might jeopardize U.S. policy in Ukraine.
In the 2020 report, Hochstein testified that he discussed Burisma with Biden in the White House's West Wing in October 2015. Visitor records show he made three visits to the White House that month, with two taking place in the West Wing and one on its second floor.
When Hochstein testified before Congress, he declined on the advice of counsel to testify about the substance of his conversations with Vice President Biden.
House Oversight Committee Chairman James Comer (R-KY) recently obtained from the National Archives records, without redactions, showing Biden's communication with Hunter and business partners Eric Schwerin and Devon Archer using three pseudonyms: Robert L. Peters, Robin Ware, and JRB Ware.
Between 2014 and 2016, then-Vice President Biden, using these aliases, kept Hunter informed about discussions with Ukrainian leaders, including then-President Petro Poroshenko and Prime Minister Volodymyr Groysman.
House Oversight Chair Comer remarked on the findings to Fox News journalist Maria Bartiromo.
"This was 100% government business," Comer also said.
"Again, the Democrats in the White House have claimed that Hunter Biden and Joe Biden had a wall, a firewall, between their business affairs… as you know, are no legitimate businesses here.
"The Biden family was receiving payments from bad people in bad countries around the world. And what we've been trying to do is figure out why, why in the world would the Biden family receive over $20 million from foreign nationals around the world? And this is evidence to show that Joe Biden was communicating with his son. He was making sure that his son knew he was on his way to Ukraine."
"Remember the timeline of these emails show that Joe Biden was en route from Washington to Ukraine for the sole purpose of withholding aid to Ukraine in exchange for firing the prosecutor," he went on. "And we know that happened, and we know Joe Biden accepted credit for it."
"He did an interview where he said, well, son of a B—-, they fired the prosecutor before I got on the plane and left Ukraine.' Joe Biden, in his own words, said that, so now we have evidence that Joe Biden and his administration was communicating with Hunter Biden," he noted.
"They knew Hunter Biden was affiliated with Ukraine. That's another lie… Joe Biden said he didn't even know Hunter was on the Burisma board for a long time. This is another lie. They were copying Hunter and the only emails we've seen were they were copying Hunter were pertaining to Ukraine at a critical time when Joe Biden was going there to fire the prosecutor in exchange for foreign aid. That's called a quid pro quo… and that's very illegal and it's more evidence that Joe Biden was front and center in this influence peddling scheme."
The saga detailing Joe Biden's sudden policy shift in late November 2015, affecting both the U.S. Vice President's office and Hunter Biden's ties with Burisma, was promised to readers by the news outlet that surfaced these reports.