Fulton County District Attorney Fani Willis has proposed a March 4, 2024 state date for the trial of President Donald Trump.
This is one day prior to Super Tuesday, arguably the most important date in the entire Republican primaries.
The March primary calendar courtesy of Election Central is provided below: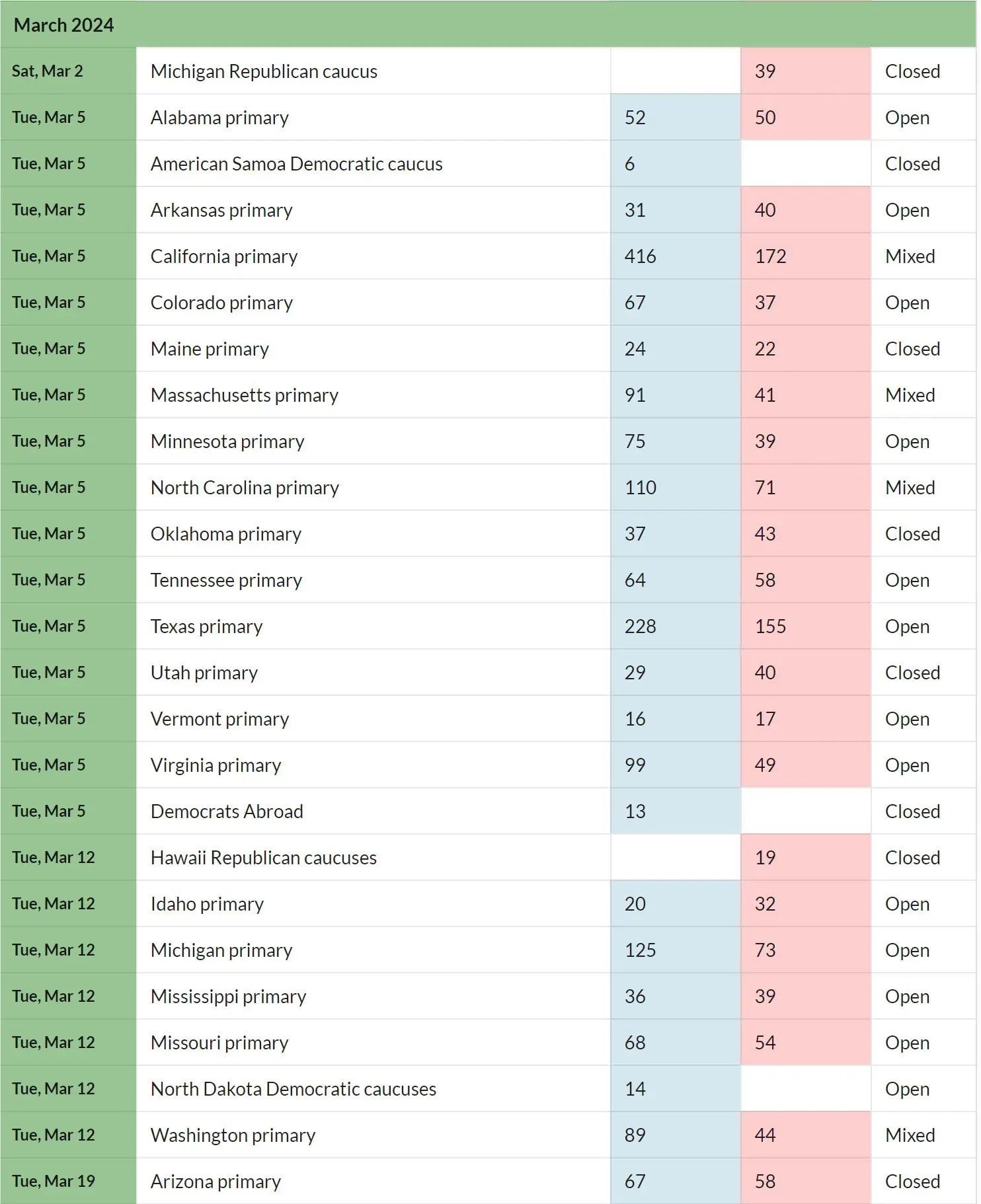 On Monday, Trump, along with 18 other individuals, was indicted by Willis on multiple charges.
These include violations of the state RICO Act, soliciting a public officer to breach their oath, providing false statements and documents, impersonating a public official, and conspiracy to commit the same impersonation.
Willis has urged Trump and the co-accused to "voluntarily surrender by noon on August 25, 2023."
There are many questions about the Trump indictment, including the apparent political timing of the case, as well as the partisan leanings of the prosecutor Fani Willis.
As reported by investigative journalist Paul Sperry, "Georgia state records show that Fulton County D.A. Fani Taifa Willis — whose father was a member of the militant Black Panthers — has contributed $6,424 to the Georgia Democratic Party and Democrat candidates."
Fani Willis was also prohibited from prosecuting a Trump ally due to a conflict of interest stemming from her political activism.
"In an embarrassing blow to the prosecutor investigating election interference by former President Donald J. Trump, an Atlanta judge has disqualified District Attorney Fani T. Willis of Fulton County from developing a criminal case against one Trump ally, citing a conflict of interest," the New York Times reported in July 2022.
"Ms. Willis had recently notified State Senator Burt Jones, the Republican candidate for lieutenant governor in Georgia, that he could face indictment," the report added.
"But on Monday, Judge Robert C.I. McBurney of Fulton County Superior Court barred her from pursuing a case against Mr. Jones because she had headlined a June fund-raiser for his Democratic rival in the race."
This fourth Trump indictment comes amid heightened public interest in the reported scandals of President Joe Biden and his family.
The Fulton County D.A. requesting a trial date for the height of the presidential primary season will only add fuel to the widespread belief that the indictment is politically motivated.