In a surprising poll released early Sunday morning, former President Donald Trump is now trouncing incumbent President Joe Biden in a hypothetical 2024 presidential election race.
The Post-ABC poll currently shows Biden trailing Trump by 10 percentage points, although this significant lead in favor of Trump contrasts with other public polls that depict the general election as a tight race.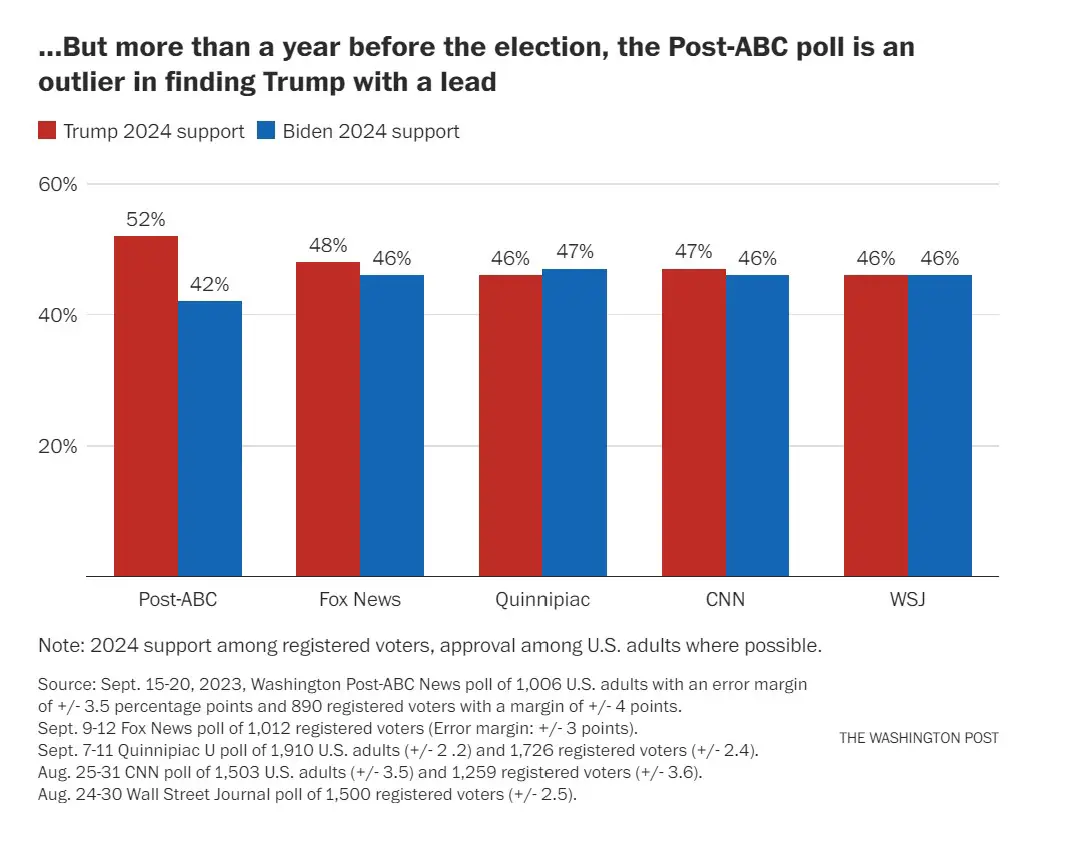 The Washington Post-ABC News poll attributes President Biden's ongoing struggle to gain approval from a skeptical public with his management of the economy and immigration.
There is also a rising sentiment that the United States is overly involved in aiding Ukraine in its conflict with Russia, along with widespread concerns about his age as he seeks a second term.
The Post's write-up, however, neglects to mention the Biden family corruption scandal and the political prosecutions of the former president.
It also downplays the border crisis that is spiraling out of control.
More than 3 in 5 Democrats and Democratic-leaning independents express a preference for a different nominee than Joe Biden.
Despite this, Biden's advisors argue that he is the strongest Democrat for the 2024 election.
Of those preferring a different candidate, 8 percent name Vice President Harris, 8 percent name Sen. Bernie Sanders (I-VT), and 20 percent prefer "just someone else."
In his bid for the Republican presidential nomination for a third time, Trump remains strong on the national stage, even in the face of multiple criminal charges.
He is favored by 54 percent of Republicans and Republican-leaning independents, a modest change from 51 percent in May. Florida Gov. Ron DeSantis comes in second at 15 percent, down from 25 percent in May.
No other Republican candidate reaches double digits.
Trump also leads his GOP rivals in recent state polls, which are likely more reliable indicators of the upcoming GOP race.
Despite facing 91 felony counts in four jurisdictions, including two cases related to the 2020 election results, 53 percent of Americans believe the former president is being held accountable under the law like anyone else would be, while 40 percent think he is unfairly victimized.
A significant majority of Republicans (75 percent) believe the latter.
Meanwhile, 58 percent of Americans feel Biden is being held accountable under the law like any other president, while 32 percent believe he is unfairly victimized by political opponents.
Public opinion is more evenly split on whether Congress should initiate impeachment proceedings against Biden.
About 7 in 10 Republicans and Republican-leaning individuals support it, while approximately 8 in 10 Democrats are opposed.
Biden's overall approval rating stands at 37 percent, similar to May but lower than February when it was at 42 percent.
The Post-ABC poll finds 56 percent of Americans disapprove of Joe Biden's performance as president.