Devon Archer, who was once Hunter Biden's business associate and also a fellow board member at Burisma, had a meeting with then-Secretary of State John Kerry weeks before Viktor Shokin, the Ukrainian prosecutor investigating Burisma, was fired from his post in 2016.
Shokin was dismissed on March 29, 2016, nearly a month after Archer's meeting with Kerry, as per an email from the State Department.
A previously disclosed email dated March 2, 2016, under the Freedom of Information Act, states: "Devon Archer coming to see S today at 3:00pm – need someone to meet/greet him at C Street."
Fox News Digital has verified that "S" refers to John Kerry, based on multiple other email exchanges.
The specifics of what was discussed during Archer and Kerry's meeting remain unclear, including whether Burisma was a topic of discussion.
Around the time of this meeting, Archer and Hunter Biden had served on Burisma's board for roughly two years. Former Vice President Joe Biden had recently concluded a visit to Ukraine, during which he threatened to withhold $1 billion in U.S. financial aid unless Shokin was removed for allegedly being lenient on corruption cases.
After the email's 2019 public release, Senators Grassley and Johnson expressed concerns and asked then-Secretary of State Pompeo for additional records, including details of a 2015 meeting between Hunter Biden and Antony Blinken.
In a recent interview with Fox News, Shokin claimed that his removal was instigated by Biden due to his investigation into Burisma, a statement contested by the White House.
"I have said repeatedly in my previous interviews that [then-Ukrainian President Petro] Poroshenko fired me at the insistence of the then-Vice President Biden because I was investigating Burisma," said Shokin.
However, the White House claimed Shokin was actually removed for being ineffective at combating corruption and stated that no active investigation into Burisma or Hunter was happening at the time of his ouster.
But Shokin's resignation came in the spring of 2016 after a phone call that Joe Biden made to Ukrainian President Poroshenko.
In February 2016, Joe Biden contacted Poroshenko, following a report from Ukrainian news outlet Interfax that Prosecutor General Viktor Shokin had ordered a raid on the property of Mykola Zlochevsky, the founder of Burisma. Shortly after, Shokin tendered his resignation, and Ukraine's parliament voted to oust him the next month, according to the Kyiv Post.
In addition, newly surfaced emails from the Obama-Biden administration indicate some officials were surprised by Biden's push for Shokin's removal.
In June 2015, Assistant Secretary of State Victoria Nuland forwarded a letter to Shokin from then-Secretary of State John Kerry. The letter praised Shokin, indicating that they were "impressed" with his efforts on anti-corruption reforms.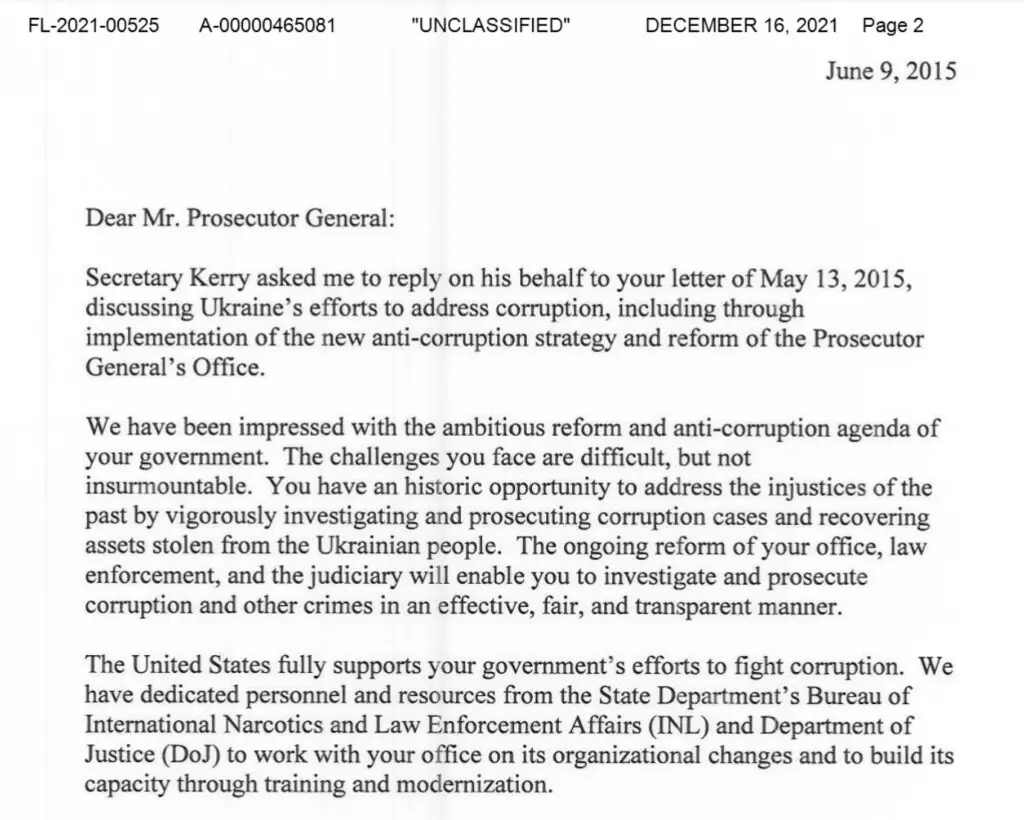 Prior documents from the State Department as late as September 2015 show that there was a general consensus that Shokin's anti-corruption efforts were considered to be "impressive."
In a closed-door House Oversight Committee interview, Archer said that Burisma leaders reached out to Hunter for assistance when faced with inquiries from Shokin and other investigators.
Archer also mentioned that Burisma executives "called D.C." in December 2015, just prior to Biden's Ukraine visit, seeking the Obama administration's assistance in removing Shokin.
Burisma executive Vadym Pozharsky had previously sent emails discussing a "revised proposal, contract and initial invoice for Burisma Holdings" involving lobbying firm Blue Star Strategies, aimed at shutting down "any cases/pursuits against Nikolay in Ukraine," referring to the company's owner, Mykola Zlochevsky.
This meeting wasn't an isolated event; Hunter and then-Deputy Secretary of State Antony Blinken had planned a State Department meeting in 2015, which was later rescheduled. Archer was kept informed of these arrangements.
Archer, who is facing legal trouble in an unrelated $60 million bond fraud case, had previously worked as an adviser to Kerry during his 2004 presidential campaign. He also co-founded Rosemont Seneca Partners with Hunter and Christopher Heinz, Kerry's stepson, in 2009.
In addition, Archer was in email communication with Kerry's chief of staff at the State Department in 2013 to organize a call between Kerry and then-Foreign Minister of Kazakhstan, Yerlan Idrisov.
Fox News Digital also reported that Archer was given advice on Burisma-related rapid response from David Wade, who left his position at the State Department in June 2015.
Joe Biden's turn against Shokin appears to have originated from his meeting with Hunter Biden business associates, including a Burisma executive in spring 2015. Joe Biden met with at least 14 of Hunter Biden's business associates between 2009 and 2014, according to White House visitor logs.  Devon Archer testified that Joe Biden had spoken at least 20 times with Hunter's business associates.
The most important of Joe Biden's known business meetings was a dinner he attended with Hunter's associates from Ukraine and Russia at the Café Milano in Washington, D.C. on April 16, 2015, according to records on Hunter Biden's abandoned laptop. Documents show that Joe Biden planned to meet with Burisma executive Vadym Pozharskyi, Moscow Mayor Yury Luzhkov, and his wife, Russian billionaire Yelena Baturina.
Joe Biden had dined with Baturina a year before in 2014, according to records. The Russian oligarch had made a series of wire transfers between May 6, 2015 and Dec. 8, 2015 that went through Hunter Biden's firm Rosemont Seneca Partners amounting to $3.5 million. These were labeled as "loan agreements." Under President Biden's presidency, Elena Baturina would mysteriously escape sanctions on Russian oligarchs.
But the hard turn against Shokin appears to have only arisen in known U.S. foreign policy in mid-October, after Joe Biden met with Hunter Biden associate Amos Hochstein and just two weeks prior to Vice President Biden's rushed December 6, 2015 visit to Ukraine.
Hochstein had visited the White House three times in October 2015, with two of the visits occurring in the West Wing and the other on the second floor of the West Wing, according to his testimony. He would accompany Joe Biden on that Ukraine trip. He would later go on to become a special presidential coordinator for President Biden.
Speaking to the Council on Foreign Relations in September 2016, Biden had openly discussed his role in pressuring Poroshenko to dismiss Shokin. He recounted, "You remember last year I was authorized to say we'd do the second tranche of a billion dollars. And he didn't fire his chief prosecutor. And because I have the confidence of the president, I was there, and I said: 'I'm not signing it. Until you fire him, we're not signing, man. Get it straight. We're not doing it.'"
As Just the News pointed out, "The abrupt shift came as a surprise to Poroshenko and, it turns out, the Nov. 22, 2015 memos were even a bit of a surprise to Geoffrey Pyatt, the U.S. ambassador to Ukraine, according to testimony Pyatt later gave Senate investigators."
"I can't help you on that," Pyatt told Senate investigators when he was later shown copies of the Nov. 22, 2015 memos. "If you look on the clearance page you will see that I actually didn't see these documents until you guys sent them to me."
Pyatt would later concede that a political principal like Joe Biden may have ultimately decided to change policy.
"This is an imperfect art," Pyatt said. "And what it ultimately comes down to is the principal's decision, and, you know, in this case how the Vice President based–and there would typically, before a big trip like this, a day or two before he got on the airplane there would have been a deputies' or a principals' level discussion."
"I would imagine, based on my conversations with him that the Vice President also would have a discussion with the President," he said, adding that Biden would likely say something like, 'Hey, boss, this is what I'm doing,' and, you know, take it from there."
As noted by Solomon and Richards, Joe Biden "has maintained since the 2019 impeachment case against Trump that his leveraging of the $1 billion loan guarantee to force the firing of Shokin was simply a matter of carrying out U.S. policy crafted by career officials."
Such an explanation for a 'quid pro quo' threat that eventually led to the impeachment of former President Donald Trump obviously now has glaring holes.