Hunter Biden collaborated with Democratic strategists to "close down any cases" against Mykola Zlochevsky, the founder and CEO of the corrupt Ukrainian gas company Burisma, and to "gain intelligence" on Ukraine's leading prosecutorial office," blockbuster new emails confirm.
These emails bolster accusations by former Prosecutor General of Ukraine Viktor Shokin that Hunter Biden and his father, who was then Vice President, worked to kill his criminal investigation into Burisma.
Over the past weekend, Shokin reiterated his accusation that his termination came at the behest of Joe Biden over the Burisma inquiry.
Emails sourced from Hunter Biden's laptop and reported by the Daily Mail shed light on his involvement in Burisma's efforts to block legal investigations into its corruption. On May 12, 2014, just a day before Hunter's $1 million annual role on the board of Burisma was publicly disclosed, Burisma executive Vadym Pozharskyi reached out to Hunter Biden through his personal Gmail, cautioning that Zlochevsky was probably under criminal scrutiny in Ukraine.
"We urgently need your advice on how you could use your influence to convey a message / signal, etc to stop what we consider to be politically motivated actions," said Pozharskyi in his email.
Pozharskyi also asserted that Burisma was being extorted. "In case we don't cooperate i.e. provide money in cash the gas production business of [Zlochevsky] would be stopped," he communicated.
At that point, Zlochevsky was already a subject in a legitimate money laundering investigation led by the FBI and British intelligence, accused of favoring his own companies with profitable gas contracts during his tenure as Ukraine's environment minister and funneling $23 million overseas.
Joe Biden personally met with Pozharskyi at the Café Milano in Washington, D.C. on April 16, 2015, according to records on Hunter Biden's abandoned laptop, and Devon Archer's sworn testimony. He also planned to meet with Moscow Mayor Yury Luzhkov, and his wife, Russian billionaire Yelena Baturina.
Joe Biden had also dined with Baturina a year before in 2014, according to records. The Russian oligarch had made a series of wire transfers between May 6, 2015 and Dec. 8, 2015 that went through Hunter Biden's firm Rosemont Seneca Partners amounting to $3.5 million. These were labeled as "loan agreements." Under President Biden's presidency, Elena Baturina would mysteriously escape sanctions on Russian oligarchs.
Hunter Biden had sought the counsel of a partner at his then-law firm, Boies, Schiller, & Flexner, to formulate a strategy for Burisma. He also offered guidance on acquiring 'intelligence' on potential new appointments at the Prosecutor General's office through the investigative agency Nardello & Co.
"It would be helpful to gain intelligence on who is leading the restructuring the individuals being considered for those posts," Hunter noted.
"Agreed – that is part of what their human intel sources are seeking to learn," responded Heather King, the partner at Boies.
A high-ranking U.S. diplomat in Ukraine, George Kent, informed Congress that a Ukrainian prosecutor's deputy had told him that Zlochevsky paid a $7 million bribe to Ukrainian legal authorities in December 2014, aiming to derail the joint U.S.-U.K. investigation.
There's no evidence found on Hunter's laptop suggesting his direct involvement in such an alleged bribe.
However, when Shokin assumed the role of the new Prosecutor General in 2015, Burisma found itself under renewed scrutiny. Shokin initiated new probes into the company, pursued legal action against one of his own staff regarding the alleged disruption of Zlochevsky's $23 million money laundering investigation, and succeeded in having a court temporarily freeze the assets of the Ukrainian businessman.
"Vadim [Pozharsky] – I am with Devon in Doha. We will have a discussion with the Boies Schiller team ASAP. What are the formal (if any) accusations being made against Burisma and/or it's holding companies. What ultimately is their goal in attacking Burisma? Who is ultimately behind these attacks on the company? Who in the current interim government could put an end to such attacks? Thanks, Hunter," the email read.
Pozharskyi had emailed Hunter Biden and Devon Archer, who were on the Burisma board, about General Prosecutor Viktor Shokin being a part of the Svoboda [Freedom] Party and the actions that had been taken in pretrial proceedings. It should be noted that Pozharskyi gave both Hunter Biden and Archer basic background information on Burisma Holdings, saying its companies are 'heavily engaged in gas production,' despite eventually paying them millions in alleged consulting.
Hunter Biden connected Burisma and Washington D.C. consulting firm Blue Star Strategies, which is managed by ex-Clinton administration officials. His point person was Heather King.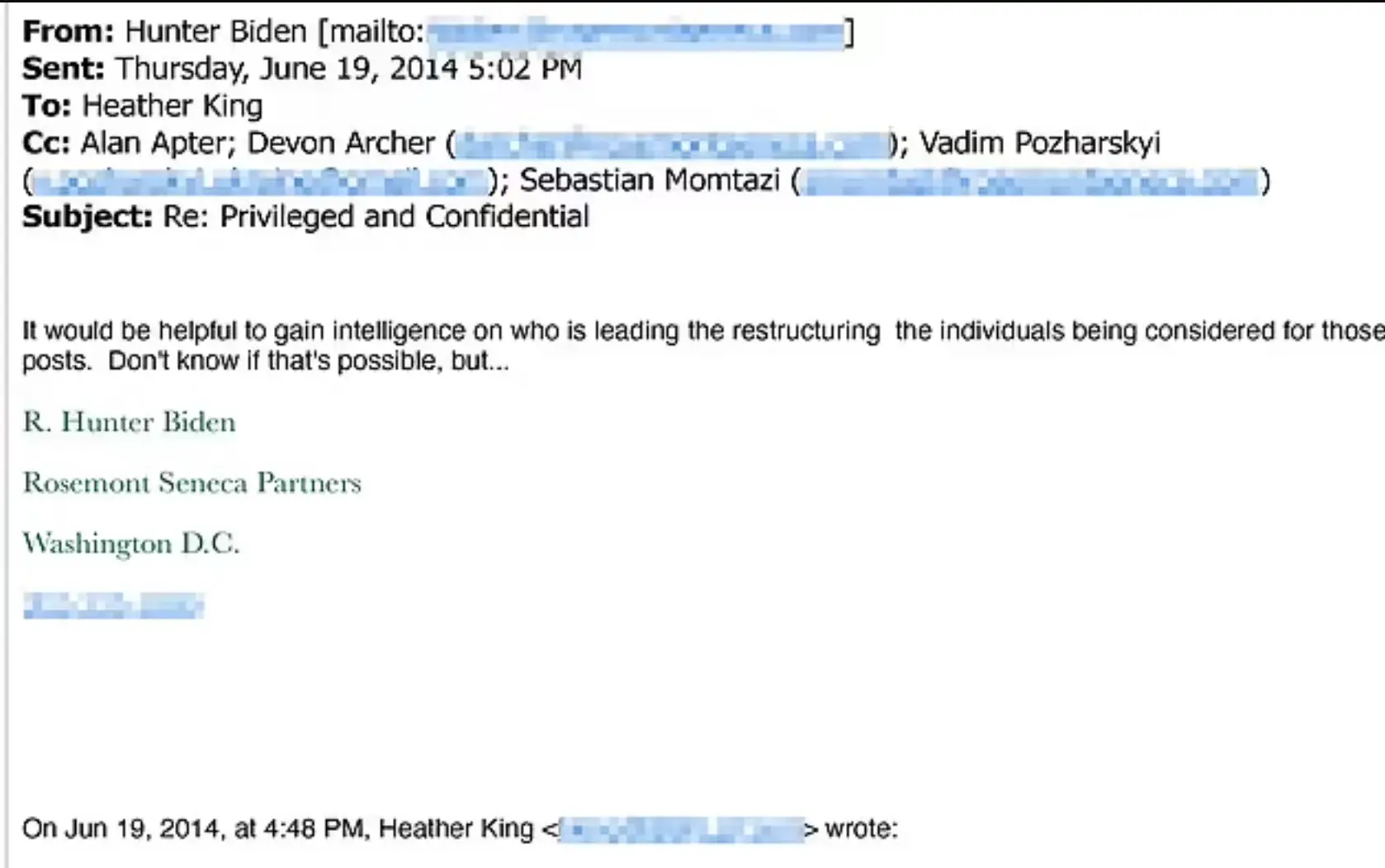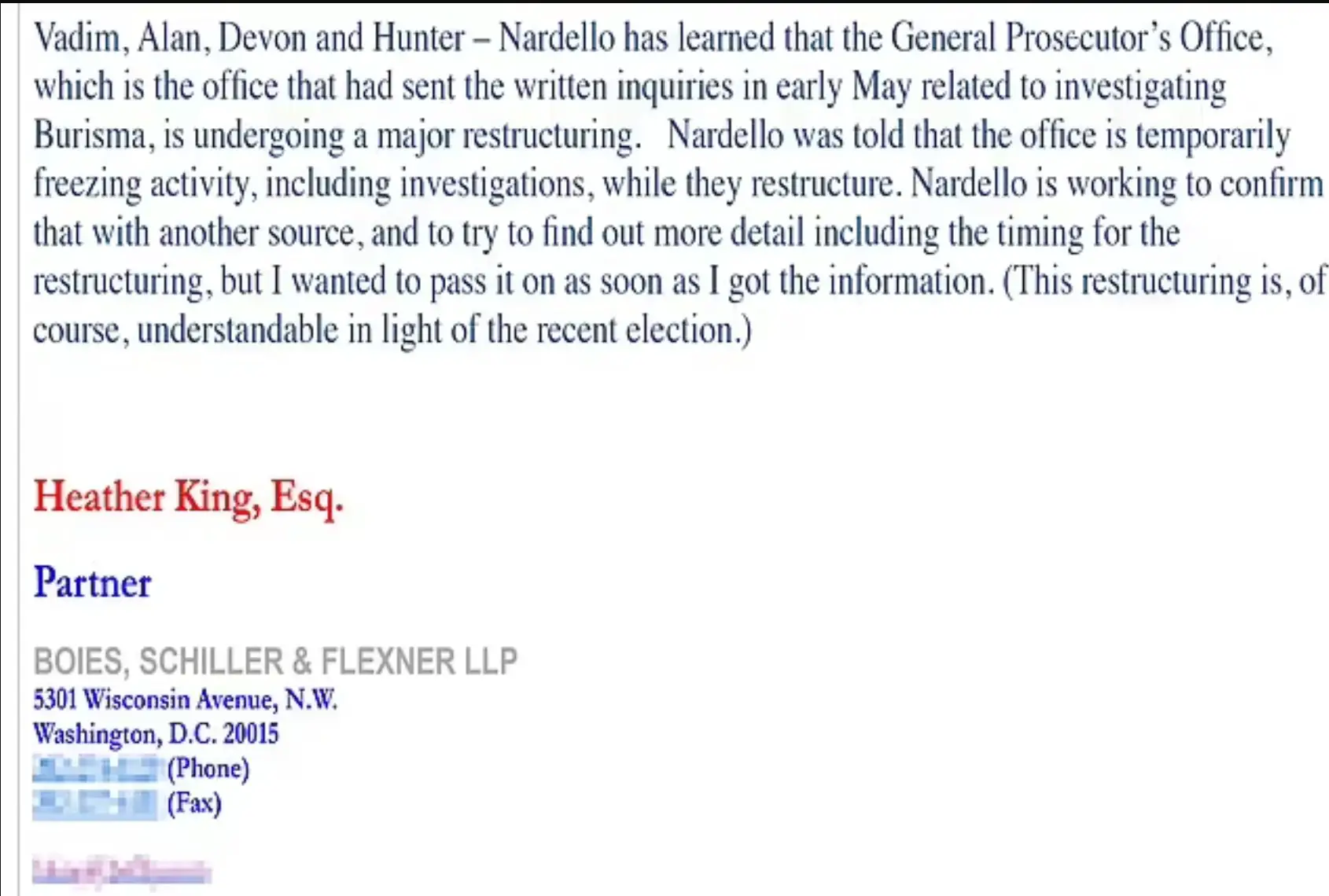 In an email dated November 2, 2015, Vadym Pozharskyi, a Burisma executive, clarified that the "ultimate purpose" of Blue Star's involvement was "to close down for any cases/pursuits against [Zlochevsky] in Ukraine."
Pozharskyi expressed disappointment that the formal proposal from Blue Star did not explicitly promise lobbying efforts targeting high-level U.S. diplomats. Such a commitment would have obligated Blue Star to register as a foreign agent with the U.S. Justice Department. However, Hunter Biden and his associates implied that the omission was intentional.
In private communication with Hunter, his business partner Eric Schwerin stated: "I would tell Vadym that this is definitely done deliberately to be on the safe and cautious side and that Sally [Painter, Blue Star COO] and company understand the scope and deliverables."
Pozharskyi responded, "If you and Devon [Archer, Hunter's friend and fellow board member] feel comfortable that they will deliver what in real terms we are talking about, we should disregard the wording of the scope and move further with signing and starting actual work."
On November 5, 2015, Hunter Biden confirmed his comfort level with Blue Star. "Devon and I do feel comfortable with BS [Blue Star] and the ability of Sally & Karen [Tramontano, CEO] to deliver," he replied.
The former Clinton aides at Blue Star subsequently undertook lobbying efforts with the State Department on behalf of Burisma. They later came under investigation by federal authorities for not registering under the Foreign Agents Registration Act. Subsequently, to avoid legal repercussions, they filed the required paperwork in 2021.