The Chairman of the House Oversight Committee, Rep. James Comer (R-KY), has revealed evidence showing that Joe Biden accepted a direct payment from his brother James Biden, one of his son Hunter Biden's business partners.
Comer published a video on X detailing a $200,000 payment Joe Biden received from his brother in 2018, which came on the same day a struggling rural hospital operator wired $200,000 to the bank accounts of James Biden and his wife Sara Biden.
"We're still digging into the evidence subpoenaed from bank accounts belonging to Hunter Biden, the son of President Joe Biden, and James and Sara Biden – the brother and sister-in-law of the President," Comer said at the beginning of the video.
"Bank records obtained by the House Committee on Oversight have revealed a $200,000 direct payment from James and Sara Biden to Joe Biden in the form of a personal check," he continued.
"In 2018, James Biden received $600,000 in loans from Americore — a financially distressed and failing rural hospital operator. According to bankruptcy court documents, James Biden received these loans 'based upon representations that his last name, 'Biden,' could 'open doors' and that he could obtain a large investment from the Middle East based on his political connections,'" Comer added.
"On March 1, 2018, Americore wired a $200,000 loan into James and Sara Biden's personal bank account – not their business bank account. And then on the very same day, James Biden wrote a $200,000 check from this same personal bank account to Joe Biden."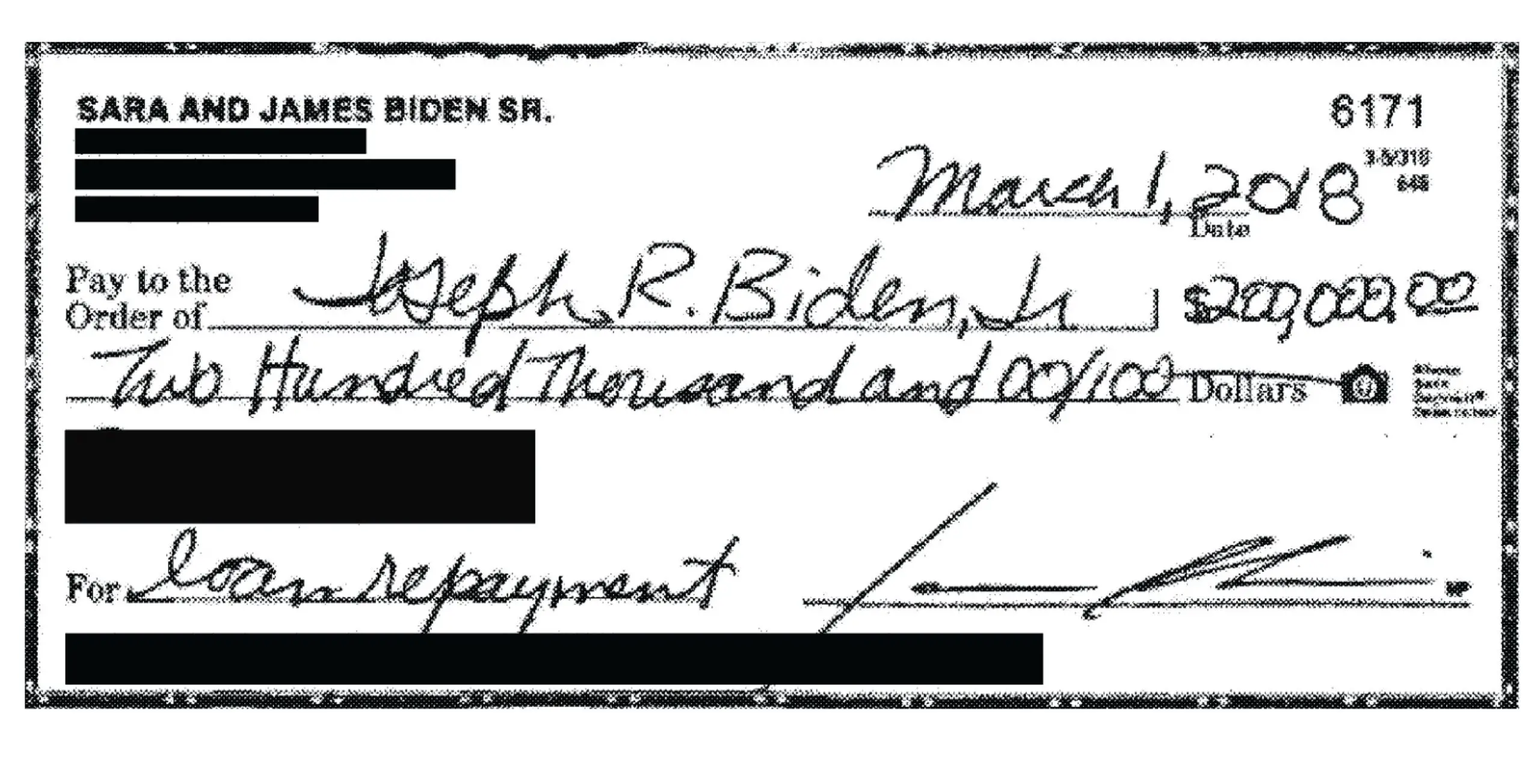 The Wall Street Journal reported that James Biden had paid $350,000 to resolve a lawsuit alleging he played a role in Americore's eventual bankruptcy.
The Oversight Committee subpoenaed the personal and business bank records of Hunter and James Biden on September 28, following the initial impeachment inquiry hearing for President Biden. Comer stated at the hearing that the extant financial information regarding the Biden family's international business dealings originated from suspicious activity reports sent to the Treasury Department by institutions.
The Biden family and its associates received over $24 million from Ukraine, Russia, China, Romania, and Kazakhstan, according to a memo distributed by the House of Representatives prior to the hearing.
James Biden collaborated with Hunter Biden and Chinese business associates at the defunct infrastructure company CEFC China Energy on international business deals. In a May memo, the Oversight Committee stated that he was a member of Hudson West III, a business venture co-founded by Hunter Biden and a CEFC associate.
IRS whistleblower Joseph Ziegler testified in July that the Hudson West arrangement generated $3.7 million for all parties. Hunter Biden confessed in court to partnering with CEFC Chairman Ye on Hudson West, and his unsuccessful guilty plea with the Department of Justice (DOJ) indicates he made just under $1 million from the 2017 venture.
James Biden also received wires from Hunter Biden's erstwhile business associate Rob Walker, who, according to March bank records released by House Oversight, received $3 million from Chinese firm State Energy HK and transferred approximately $1 million to Biden family members.