The House Oversight Committee has released the Federal Bureau of Investigation's FD-1023 informant document showing current President Joe Biden allegedly engaged in a multi-million dollar bribery scheme as vice president.
The FD-1023 document (lightly redacted) details the Confidential Human Source (CHS) traveling with Alexander Ostapenko to a meeting with Mikolay Zlochevsky, then the head of the Ukrainian gas firm Burisma that hired Hunter Biden for a board seat, Burisma's CFO Vadim Pozharsky, and members of Zlochevsky's family, in late 2015 or early 2016..
Pozharsky is reported as stating at the meeting that Joe Biden's son was brought on board to "protect us, through his dad, from all kinds of problems."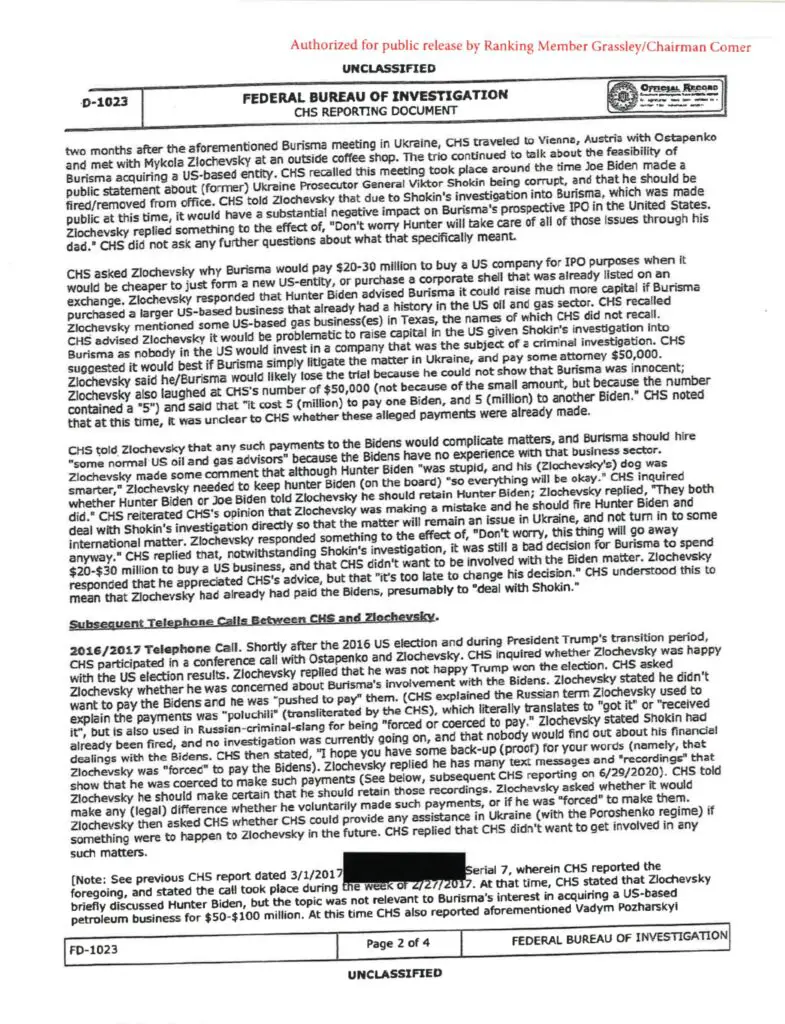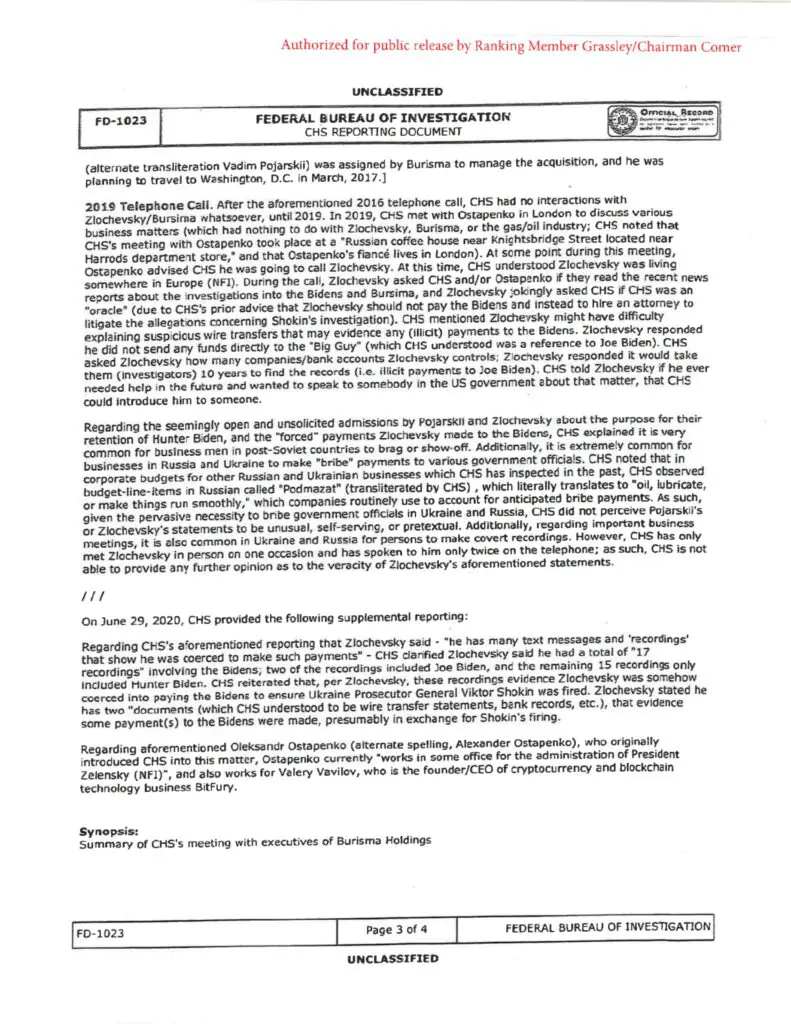 "CHS recalled this meeting took place around the time Joe Biden made a public statement about (former) Ukraine Prosecutor General Viktor Shokin being corrupt, and that he should be fired/removed from office," the form adds. "CHS told Zlochevsky that due to Shokin's investigation into Burisma, which was made public at this time, it would have a substantial negative impact on Burisma's prospective IPO in the United States."
"Zlochevsky replied something to the effect of, 'Don't worry Hunter will take care of those issues through his dad,' the form states, adding that the source 'did not ask any further questions about what that specifically meant'."
Zlochevksy added, "Hunter Biden advised Burisma it could raise much more capital if Burisma purchased a larger US-based business that already had a history in the US oil and gas sector." The CHS said Zlochevsky mentioned a business in Texas.
"CHS advised Zlochevsky it would be problematic to raise capital in the US given Shokin's investigation into Burisma as nobody in the US would invest in a company that was the subject of a criminal investigation," the form notes.
"CHS suggested it would be best if Burisma simply litigate the matter in Ukraine, and pay some attorney $50,000," the form adds, but Zlochevsky said Burisma "would likely lose the trial because he could not show that Burisma was innocent."
"Zlochevsky also laughed at CHS's number of $50,000 (not because of the small amounts but because the number contained a '5') and said that 'it costs 5 (million) to pay one Biden, and 5 (million) to another Biden."
"CHS noted that at this time, it was unclear to CHS whether these alleged payments were already made," the form states.
According to uncorroborated reports, the Oversight Committee may have obtained the bank records for the Burisma payments involved in the alleged bribery scheme.
DEVELOPING: House Oversight has just obtained the bank records for the the Burisma payments from Ukraine transferred into Biden pass-through accounts

— Paul Sperry (@paulsperry_) July 20, 2023
This is breaking news. It will be updated as more information is forthcoming.