U.S. House Rep. Anna Paulina Luna (R-FL) left the House Oversight meeting with the FBI today and announced on Twitter:
"Just left meeting for House Oversight. The @FBI is afraid their informant will be killed if unmasked, based on the info he has brought forward about the Biden family."
Many on Twitter reacted to her tweet: see some of the reactions below: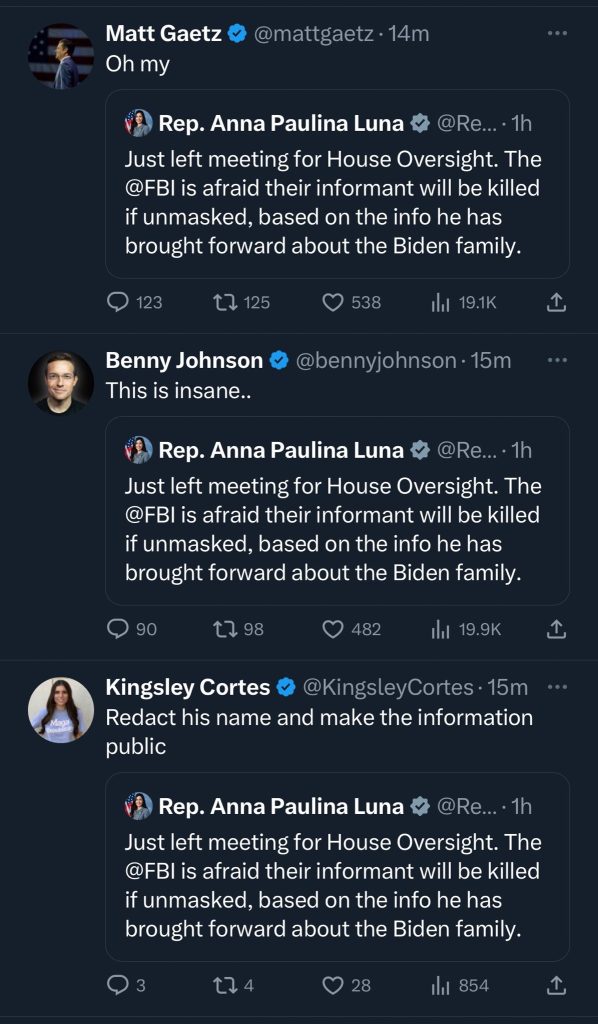 The House Oversight Committee was briefed today by the FBI on a whistleblower document that alleges that while Joe Biden was Vice President he took part in a $5 million pay-to-play scheme that involved a foreign national.
House Oversight Chairman James Comer (R-KY) subpoenaed the document last month with a deadline of May 30th. The FBI failed to comply with the document but later agreed to bring the document to Capitol Hill, which they did today. The FBI refused to leave the document at Capitol Hill which Comer has said violated the subpoena.
Comer announced earlier today that he will be moving forward with Contempt of Congress hearings against FBI officials as they have refused to comply with the subpoena. The hearings were announced to start this Thursday.
Paulina Luna appears to believe that the FBI is afraid of harm coming to the informant if the document were made public. Comer has not said he would make the document public but wants the House Oversight Committee to investigate, as he doesn't fully trust that Biden's FBI is doing what they claim.
We will see what comes next while members of congress probe into possible Biden criminal activity.
See related: