The family of a Marine who tragically lost her life during the tumultuous withdrawal from Afghanistan in 2021 had to bear the cost of $60,000 to transport her body from California to Arlington for burial.
Nicole Gee, 23, was among the 13 service members who perished in a suicide bombing at Kabul Airport, along with 170 desperate Afghans attempting to flee the country. The heartrending attack, claimed by ISIS, occurred during the chaotic evacuation near the US embassy on August 26.
According to Republican lawmaker and Army veteran Cory Mills, who met with the families of the fallen service members, one of them was compelled to pay a substantial sum to move their loved one's remains.
"Typically, our fallen heroes are flown back home for a solemn service and then laid to a final rest at Arlington Cemetery with the utmost respect and honor," he told Fox News. 
"It is an egregious injustice that grieving families were burdened to shoulder the financial strain of honoring their loved ones," he added. "This is an unacceptable situation that demands immediate rectification."
However, Honoring Our Fallen, a non-profit organization supporting families of fallen American service members, stepped in and secured a private aircraft to transport Gee's body to Arlington, donated by a veteran to honor her.
Initially, Gee's body was flown to her hometown of Roseville, California, for a ceremony. But later, her family was informed that they would be responsible for the cost of moving her to Arlington National Cemetery, where she would rest.
Mills' office explained that a change to the National Defense Authorization Act allowed the defense department to decline payment for the transportation of fallen service members' bodies. It stated that the secretary of defense may grant a commercial air travel use waiver for the transportation of deceased remains of military members who die inside a theater of combat operations.
Mills strongly believes that the defense department should bear the responsibility of covering transportation expenses for those who have made the ultimate sacrifice while serving their country, rather than placing the financial burden on grieving families.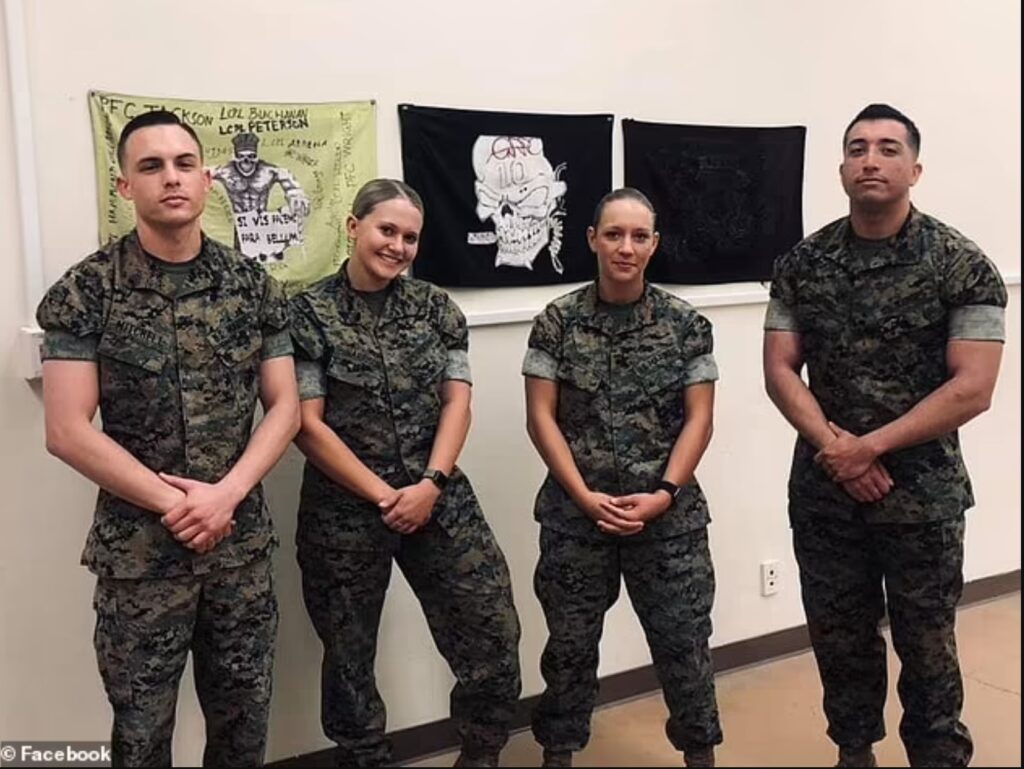 Nicole Gee, who was one of two female Marines killed in the Kabul blast, regularly communicated with her older sister, Misty Fuoco, sharing her passion and enthusiasm for the work she was doing in Afghanistan.
Nicole advocated for positive mental health and was dedicated to helping others. In a message sent to her sister less than two weeks before her death, she expressed excitement about the evacuation and her love for her family.
Her older sister Misty Fuoco, said her sister would text her regularly from Kabul to tell her how 'amazing' her job was, and described her as 'fearless.'
'She was a big advocate of positive mental health and helping others and she was just absolutely thrilled with the work she was doing in Afghanistan,' she said.
'She and I didn't get to communicate as much as we did before she was deployed but when she did, she would let me know [she was safe].
In a message sent to Misty on August 14, less than two weeks before she was killed, Nicole wrote: "Don't be scared either! There's a lot in the news lately… But there's a LOT of Marines and soldiers going to provide security. We've been training for this evacuation and it's actually happening so I'm excited for it. Hopefully it's successful and safe. I love you!!!"
The devastating news of Nicole's death left her loved ones in shock and disbelief, as they grappled with the painful reality of her untimely passing.